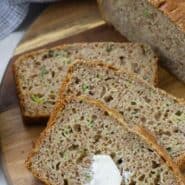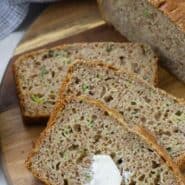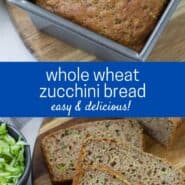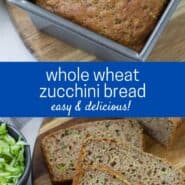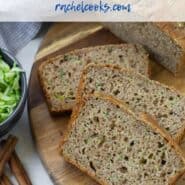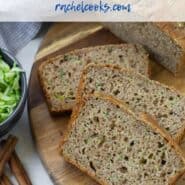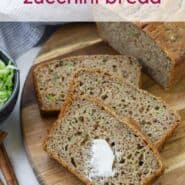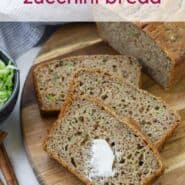 Gently spiced with cinnamon, healthy zucchini bread is wholesome and delicious, a traditional quick bread recipe that's better for you. Enjoy it for breakfast, brunch, snack, or lunchbox treat.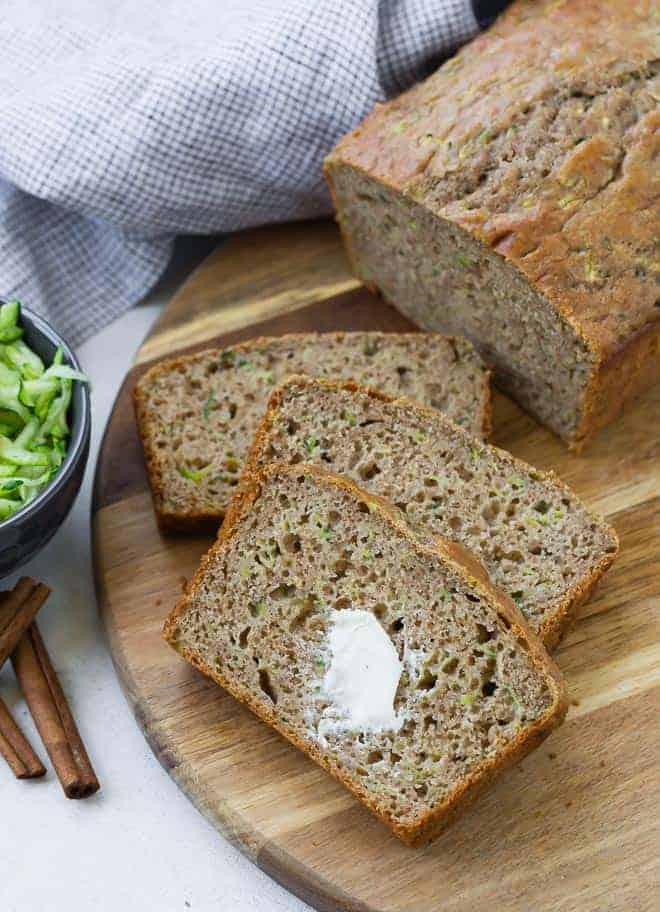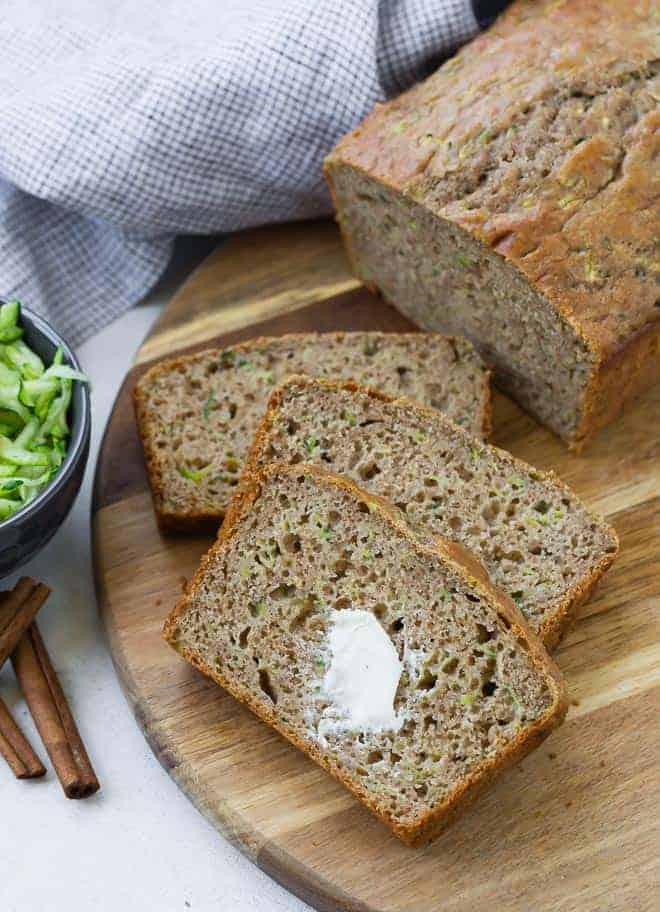 Is your summer garden bursting with zucchini? It's almost shocking how fast zucchini grows. Turn your back for a second and a little finger-sized zucchini grows into a green submarine. How does that happen?
It's a good thing that zucchini is so delicious, and nutritious, too. I love cooking with zucchini and you'll find a bunch of zucchini recipes on my site. Have you tried making zoodles yet? So fun and gluten-free! Zucchini rice casserole has the magic trifecta of cheese, rice, and zucchini — irresistible! And classic minestrone soup wouldn't be the same without zucchini. You'll love this grilled vegetable salad with lots of zucchini, summer squash, and mushrooms. 
Cooking with zucchini is great but don't forget about baking with zucchini. Who doesn't like freshly baked cinnamon-scented zucchini bread? My daughter, eying the green shreds in a sample slice of zucchini bread, asked, "But why do you have to put zucchini in it?" Well, why not? Shredded zucchini adds so much moisture to the bread, and it's nutritious. 
Try a loaf today. It's easy to make and so tasty! Serve it for breakfast, brunch, or as a snack. Zucchini bread is great for lunchboxes, too.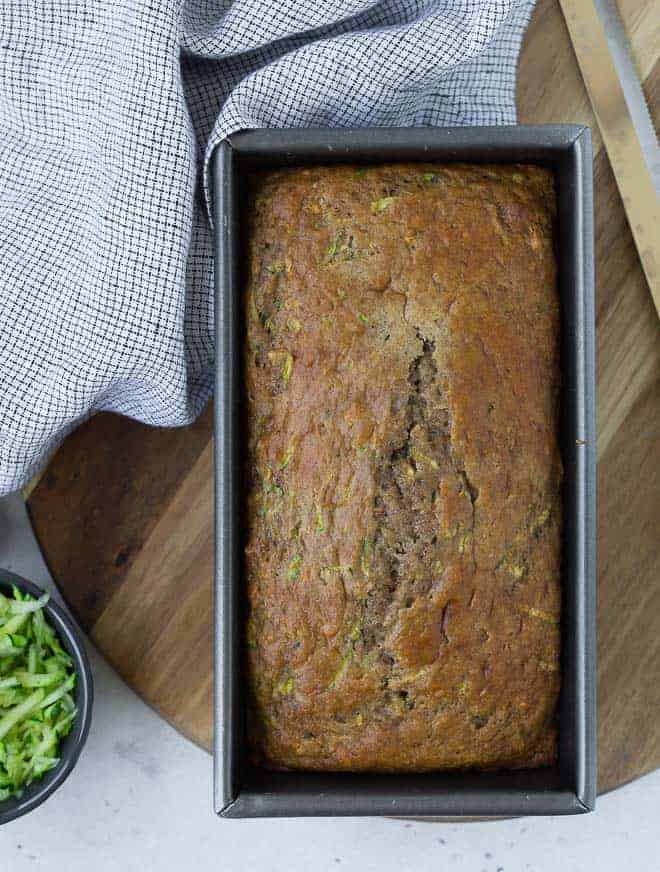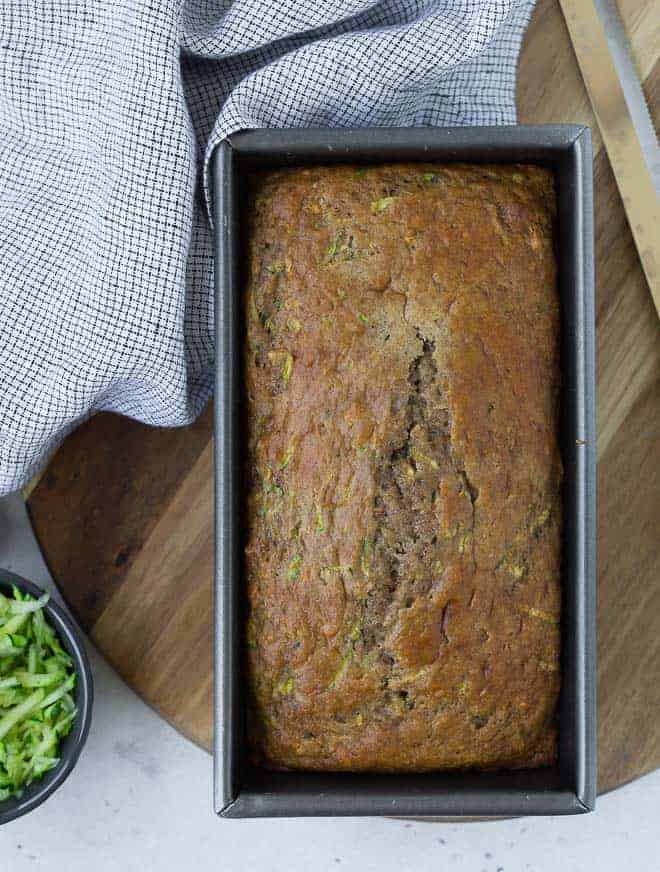 About this healthy zucchini bread:
If you follow my site, you'll know that I always look for ways to make recipes more healthy. Why not cook food that tastes great and is good for you?
So how is this zucchini bread recipe different from grandma's? I substitute Greek yogurt for most of the oil or butter traditionally found in quick bread recipes, for less fat. I use about half the amount of sugar because we all eat way too much of that already. I replace half of the all-purpose flour with better-for-you whole wheat flour (more fiber, more nutrition). 
Does this altered zucchini bread taste good? Well, yes! I bet you won't be able to tell the difference between this recipe and grandma's.
And you'll love my one bowl method of making quick breads. You can stir up the batter in about fifteen minutes, with easy clean-up, and just wait until the aroma comes wafting from the oven.
Fresh zucchini bread coming up!
The recipe calls for shredded zucchini. Good news, there's no need to peel tender skinned zucchini. Simply wash the zucchini, big or small, doesn't matter, and shred it with a box shredder.
Food prep ideas: If you have excess zucchini this summer, freeze it. Shred a bunch of it, and put it into freezer bags or containers in one and a half cup portions. You'll be all set to make this zucchini bread recipe. Just thaw it out, drain off any excess juice, and it's ready to add. 
Or, better yet, make a double batch of zucchini bread and freeze one loaf to eat later. It's just as easy to make two loaves and you'll be glad you did.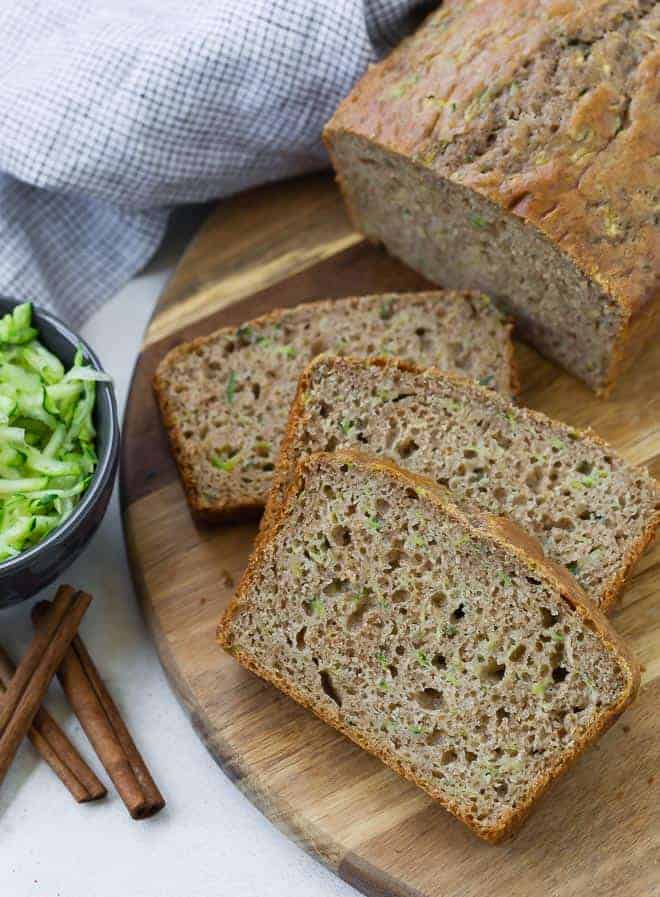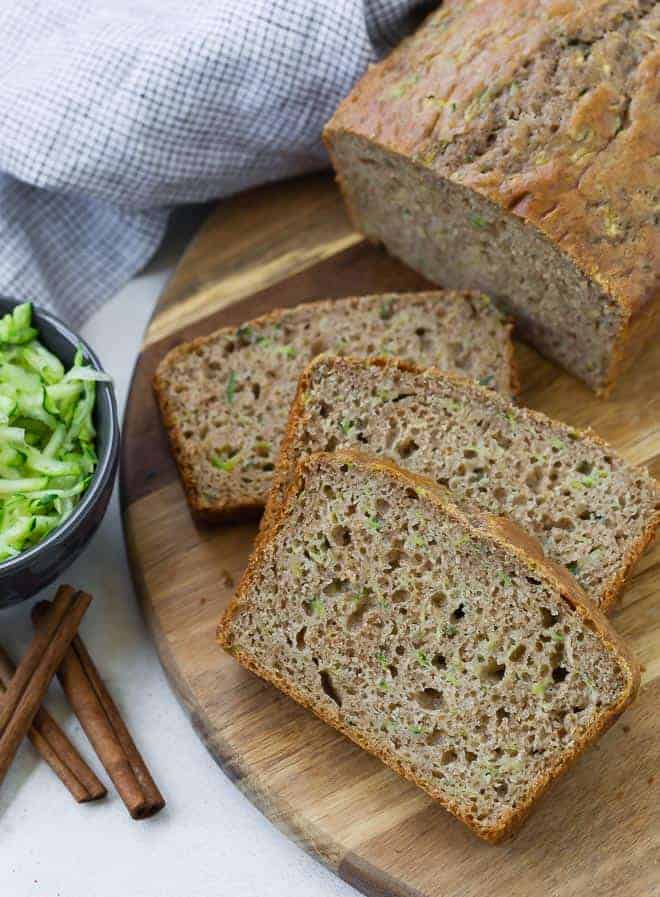 How to make this zucchini bread your own:
Fold in some extra goodies like chopped nuts, chocolate chips, raisins, or shredded coconut.
Make chocolate zucchini bread. Substitute 1/4 cup cocoa powder for 1/4 cup of the flour. 
Don't have Greek yogurt? Make this recipe with applesauce instead. You could also use regular yogurt, sour cream, or milk.
Not crazy about whole wheat flour? You can make the bread using 100 percent all-purpose flour, or white whole wheat flour. I almost always make my bread with all whole wheat flour because we love the nutty flavor. It's up to you. 
Rather have muffins? Use the same batter and portion it evenly into greased muffin tins instead of a loaf pan. Keep reading for specific baking directions.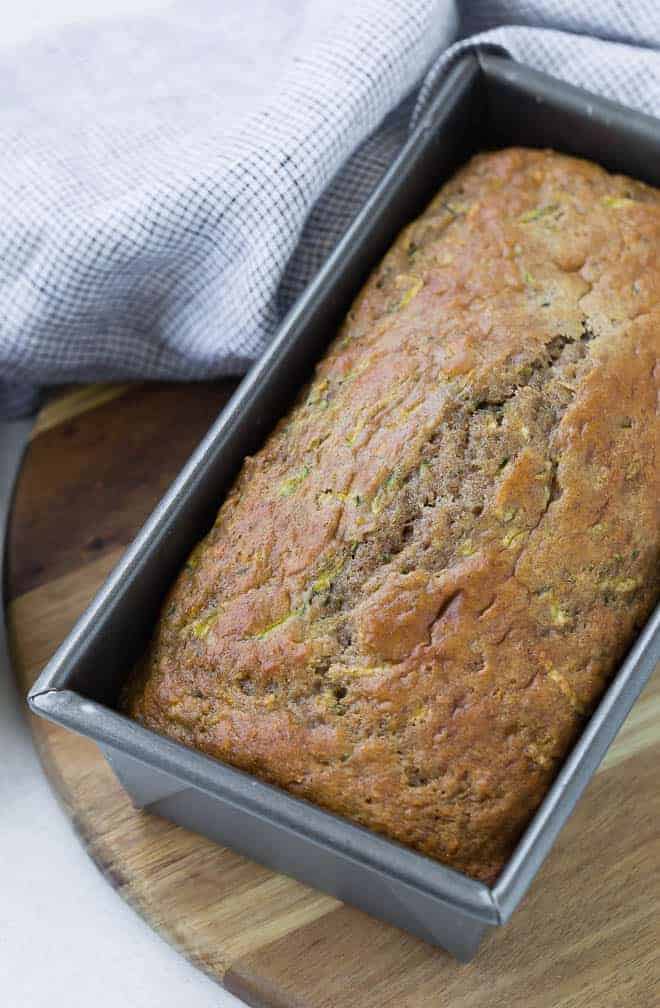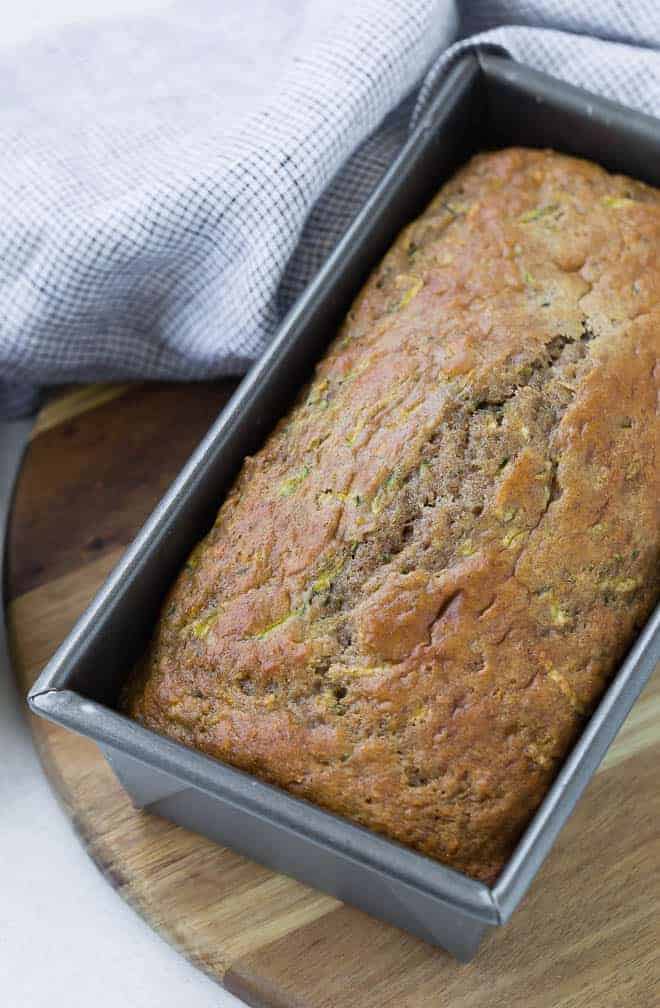 Storage Tips
This bread keeps well for a week. It's quite moist so if the weather is warm, you may want to refrigerate the bread to prevent it from getting moldy.
You can also freeze zucchini bread in freezer bags. You can also slice it before you freeze it so you can take out one slice at a time. Perfect when you need something to enjoy with your cup of coffee.
Zucchini bread makes a great lunchbox treat, too. Put individual slices in sandwich bags and freeze, ready to drop into lunchboxes.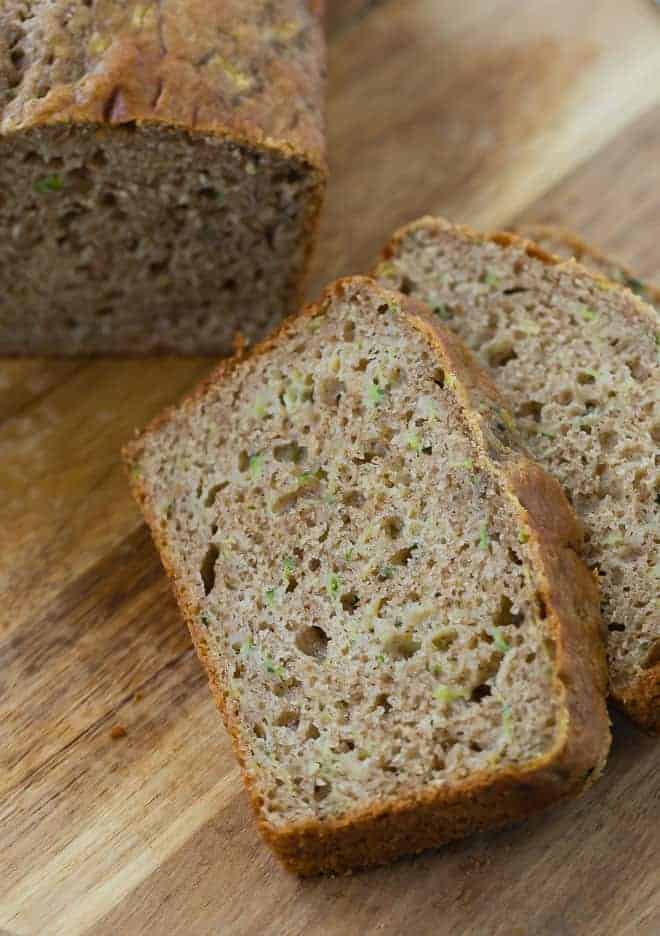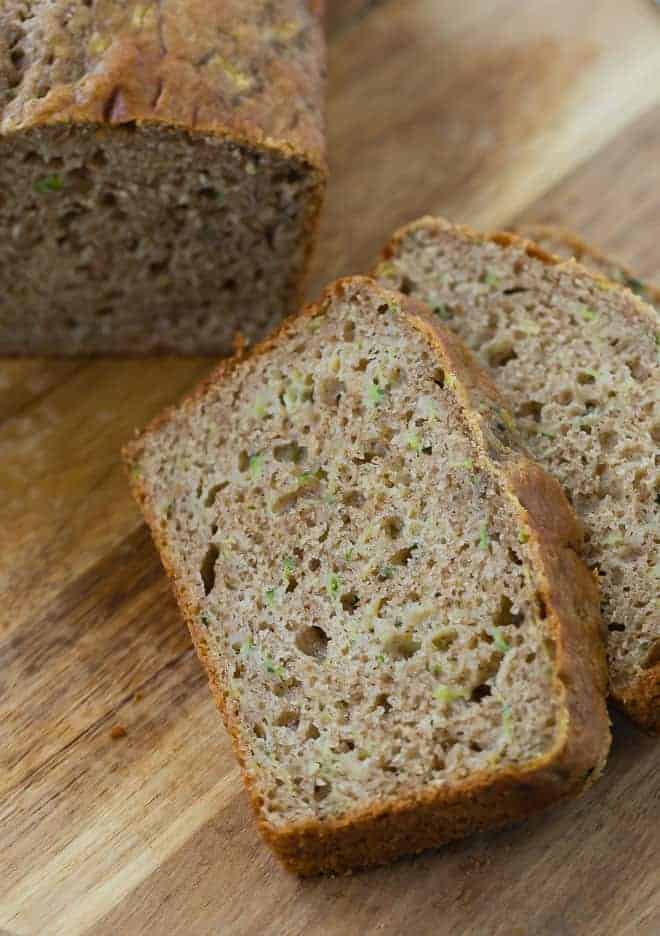 More quick breads

Quick breads are easy to make, good for you, and are always welcome. Take a loaf to a new mom or a friend who needs a pick-me-up. Try:

 
Ingredients
2 eggs, slightly beaten
½ cup plain Greek yogurt
3 tablespoons mild tasting oil
½ cup sugar
¾ cup all purpose flour
¾ cup whole wheat flour
1 ½ teaspoons ground cinnamon
¾ teaspoon baking powder
½ teaspoon baking soda
½ teaspoon salt
1 ½ cups shredded zucchini (leave peel on)
Instructions
Preheat oven to 350°F. Lightly grease a 8- or 9-inch loaf pan or spray with non-stick cooking spray.
In a large bowl, stir together eggs, yogurt, and oil until combined. Stir in sugar. 
Add flour, cinnamon, baking powder, baking soda, and salt on top of wet ingredients. Lightly stir the dry ingredients right on top of the wet, then fold in, just until combined. Fold in shredded zucchini. 
Spoon mixture (it will be quite thick) into prepared loaf tin. 
Bake 50-55 minutes or until lightly browned and toothpick inserted near the center comes out clean. 
Cool completely on wire rack before removing from loaf pan and slicing.
Notes
Fold in some extra goodies like chopped nuts, chocolate chips, raisins, or shredded coconut.
Make chocolate zucchini bread. Substitute 1/4 cup cocoa powder for 1/4 cup of the flour. 
Substitute applesauce, regular yogurt, sour cream, or milk for the Greek yogurt.
If you prefer, use all whole wheat flour, white whole wheat flour, or all-purpose flour, or any combination. 
For muffins: Preheat oven to 400°F and prepare 12 well muffin tin by lightly spraying with cooking spray or greasing. Divide bread batter evenly in muffin tins. Bake 15-17 minutes or until lightly browned and toothpick inserted near the center comes out clean. Cool 5 minutes before removing from muffin pan and continue to cool on wire rack.
Recommended Products
As an Amazon Associate and member of other affiliate programs, I earn from qualifying purchases.
Nutrition Information:
Yield: 12 servings Serving Size: 1 slice
Amount Per Serving: Calories: 140Total Fat: 5gSaturated Fat: 1gTrans Fat: 0gUnsaturated Fat: 4gCholesterol: 31mgSodium: 187mgCarbohydrates: 21gFiber: 1gSugar: 9gProtein: 4g
RachelCooks.com sometimes provides nutritional information, but these figures should be considered estimates, as they are not calculated by a registered dietitian. Please consult a medical professional for any specific nutrition, diet, or allergy advice.
Verdict: We all love this healthy zucchini bread! I love the warm spices and the fact that it's full of filling whole wheat flour.


Husband's take: Ben and the kids always make this stuff disappear!


Changes I would make: None!


Difficulty: Easy.