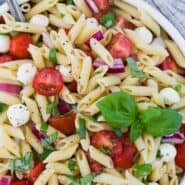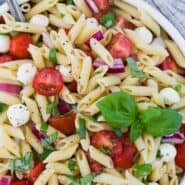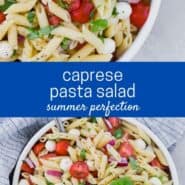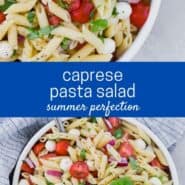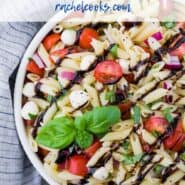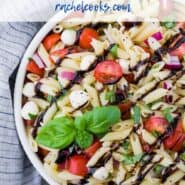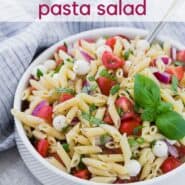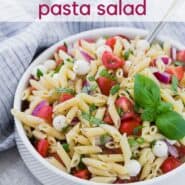 The traditional flavors of caprese, fresh mozzarella, basil, and tomato, are wonderfully represented in caprese pasta salad. Perfect for picnics, or a light summer dinner.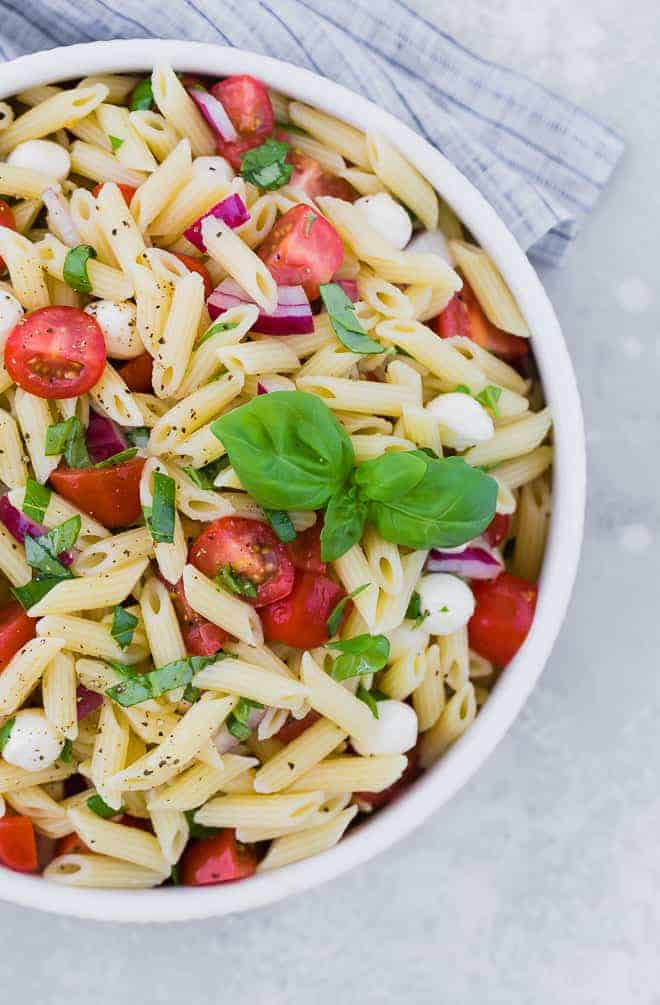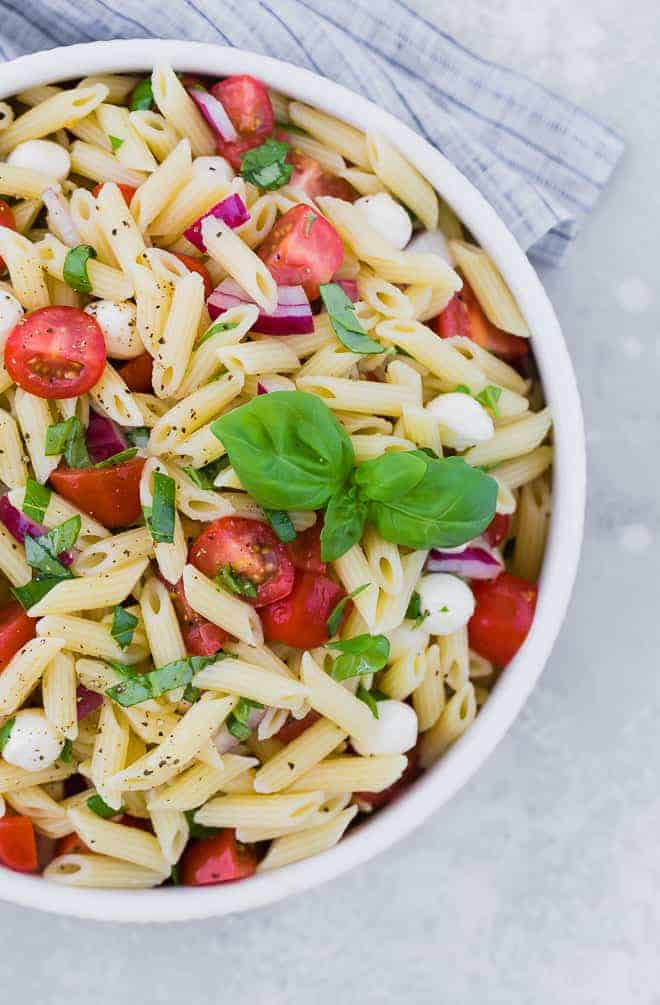 You're going to love this caprese pasta salad. I served it recently to guests for lunch and it was a big hit. I love that you can make it a day ahead and it's pretty much ready to go when you are. 
Don't you love caprese? It's a perfect marriage of flavors and textures: rounds of fresh mozzarella, topped with a slice of tomato, and a fresh basil leaf, drizzled with balsamic vinegar and sprinkled with salt and pepper. One of my favorite appetizers is hot caprese dip, which is served all melty and yummy. And if you haven't tried this easy chicken caprese quinoa bake, you're missing out on a fabulous dinner.
More on caprese

Did you know that caprese is representative of the Italian flag, with its colors of red, green, and white? I think that's kind of cool. By the way, if you're wondering just how to say caprese, have no fear. Say it like this: Kuh-pray-zee.
Caprese pasta salad incorporates everything that's good about caprese but adds a few more elements to make a delicious and filling salad that can be served as a main course or side dish. Like other pasta salads, caprese pasta salad is perfect for picnics and potlucks, and is one of my most requested recipes. I think you're gonna love it!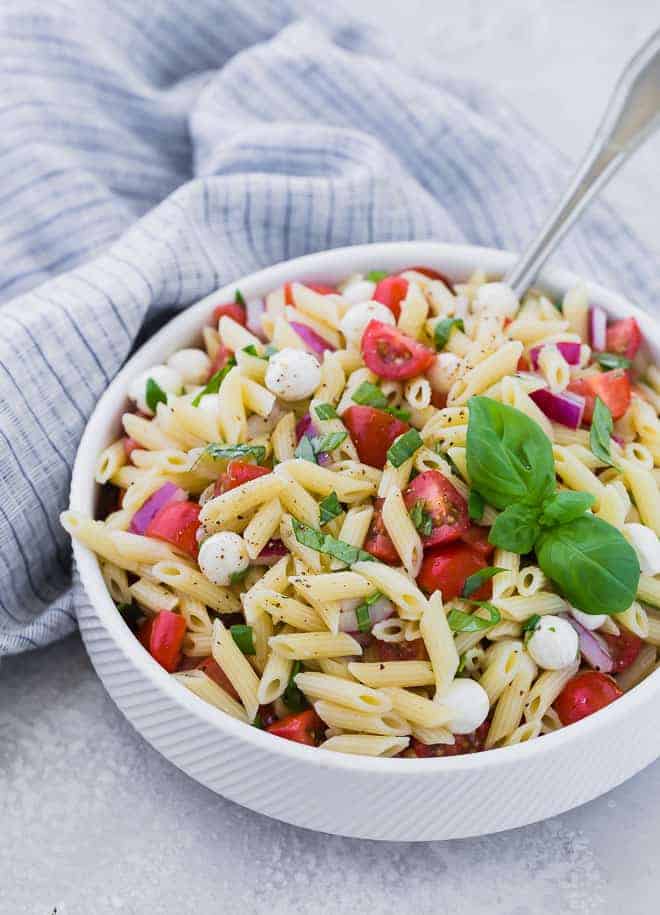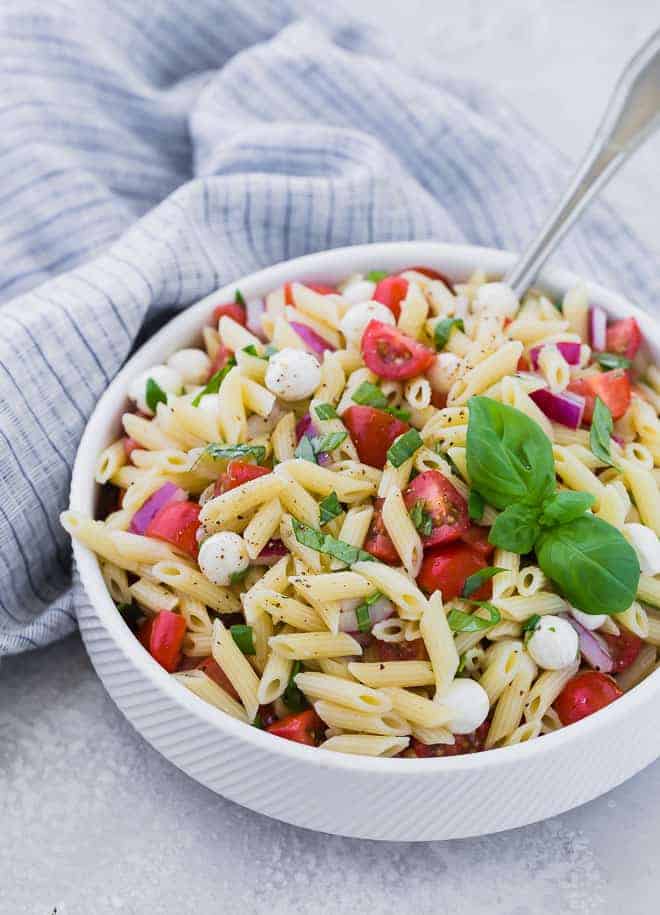 About this caprese pasta salad:
Begin this salad by cooking pasta. I like to use mini penne but choose the pasta you like best, as mini penne can be hard to find. Cook the pasta al dente, drain in a colander, rinse with cold water, and drain again. Make sure the hot pasta is cooled down by a cold water rinse so it doesn't keep cooking and get all mushy.
While the pasta is cooking, prepare a simple vinaigrette dressing.
Whisk together:
white balsamic vinegar
olive oil
salt
pepper
garlic powder
Set it aside.
Note about balsamic vinegar: Often caprese is drizzled with regular balsamic which is dark brown in color. I prefer to use white balsamic for this pasta salad because everything's mixed together and brown vinegar turns everything kind of an unappetizing color. However, I do like to drizzle balsamic reduction over the salad as a garnish, right before serving.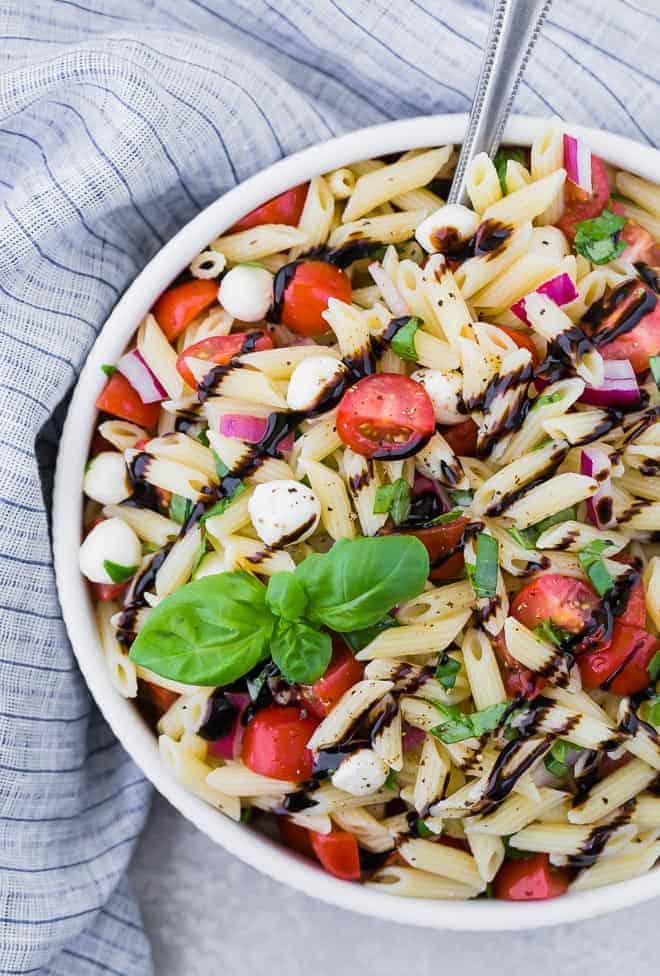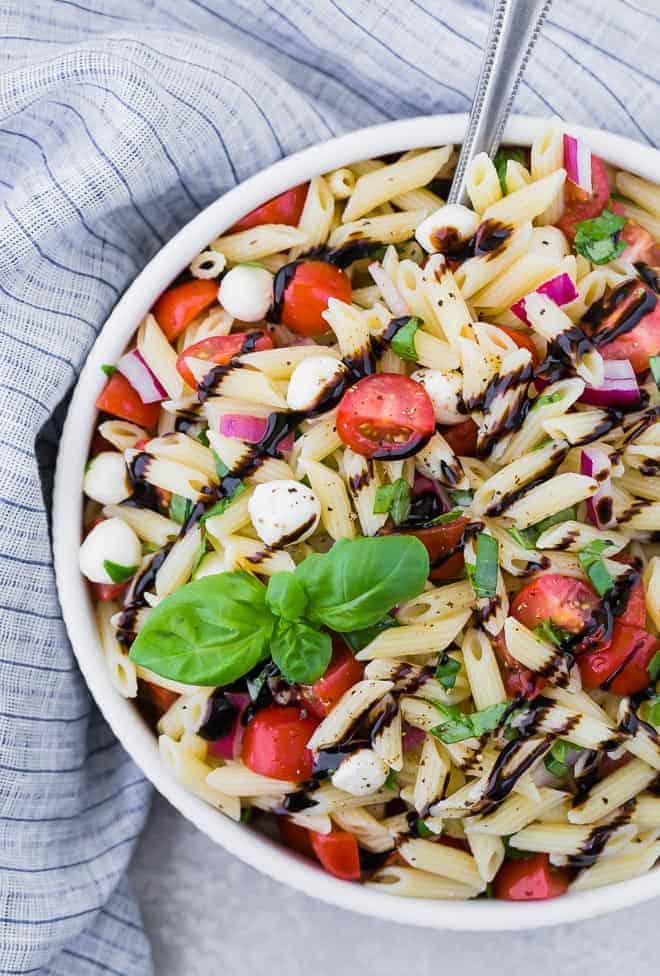 Continuing on, drain a container of fresh mozzarella pearls. I love those cute little balls of mozzarella. If you can't find them, use another type of fresh mozzarella. You may have to slice it into bite size pieces. Please don't use regular mozzarella cheese if you can help it, it's just not the same.
Slice tomatoes and a red onion. If you think red onions are too strongly flavored, I have a great hint for you on the recipe card. 
Mix everything together in a big bowl with half of the dressing and refrigerate until ready to serve. Why only half the dressing? The pasta tends to absorb a lot of dressing while it chills in the fridge, and your salad will seem kind of dry when it's ready to serve. I like to stir in additional dressing right before I serve the caprese salad.
Oh, and don't forget the fresh basil! I'm not much of a green thumb but I always grow a pot of basil on my deck. Raid your herb garden and fold in lots of freshly sliced basil right before serving your salad.
I just can't wait for you to try caprese pasta salad!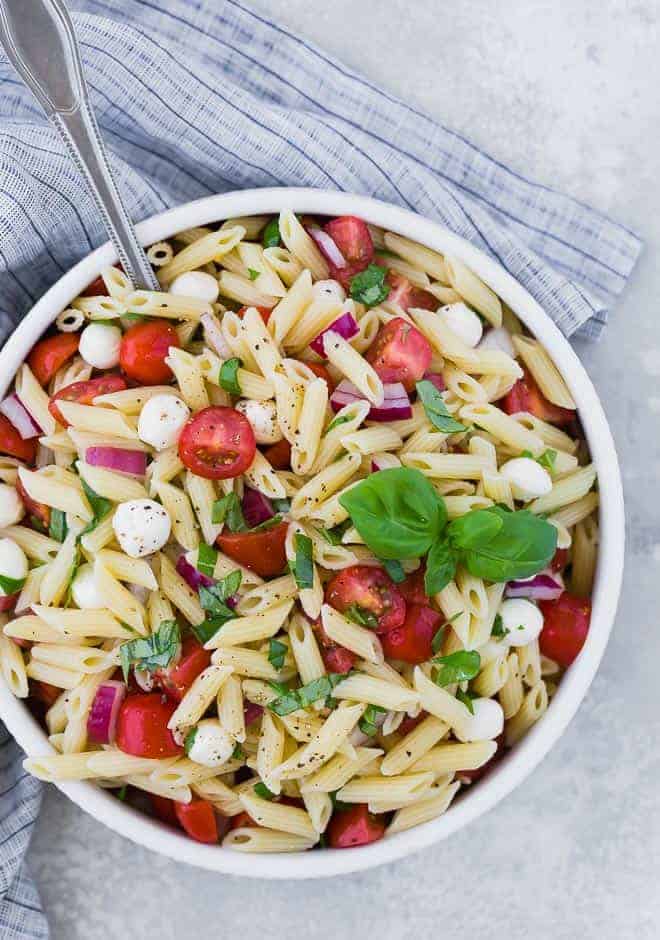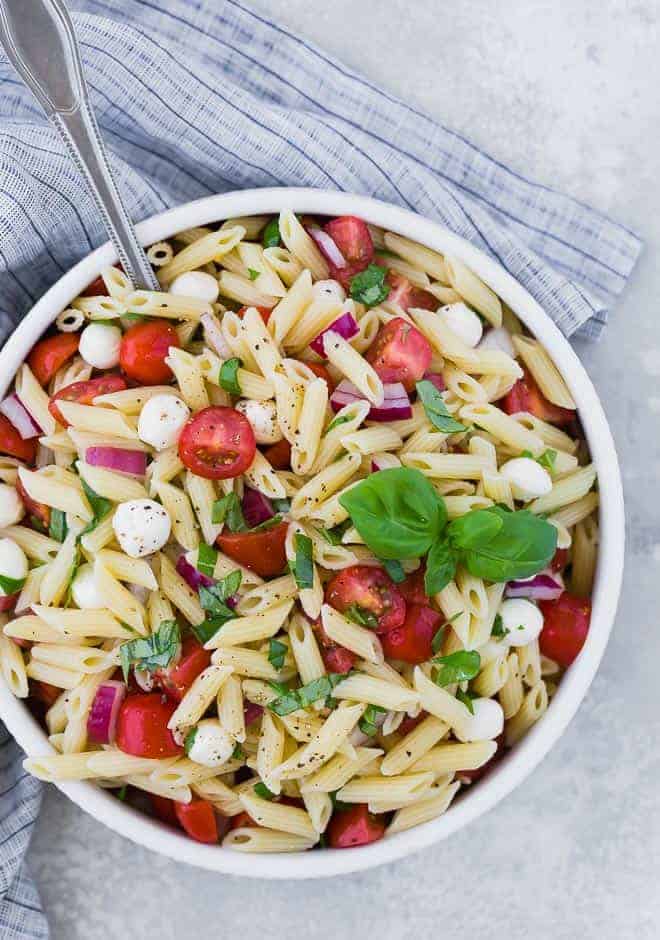 How to make this pasta salad your own:
Traditional caprese antipasto salads require three essential ingredients: fresh mozzarella, tomatoes, and basil. But there are still lots of ways you can make this salad your own.
Try a different variety of tomato. In fact, any fresh ripe tomato would be perfect. Bonus if you grow your own or visit your local farm market! Or add sun dried tomatoes for an extra burst of intense tomato flavor.
Choose your favorite pasta. Any bite-size pasta will be fine. If you want, use whole wheat or gluten-free pasta or make it with tortellini.
Make it a hearty main dish by adding grilled chicken, pepperoni, or diced ham.
Increase the veggies. Try diced red or green bell peppers, kalamata olives, finely diced zucchini or cucumber, spinach, or another veggie of your choice.
Instead of making your own balsamic vinaigrette, use bottled dressing. Another good choice is Italian dressing. Add an extra burst of basil flavor by stirring a couple spoonfuls of pesto into the dressing.
Love garlic? Try adding a clove or two of minced fresh garlic to the dressing instead of the garlic powder.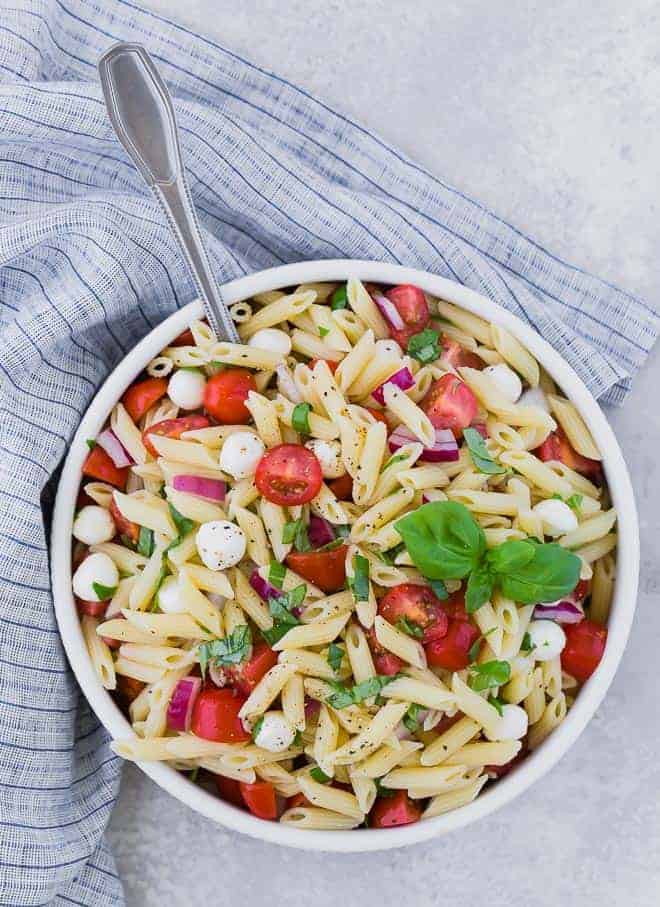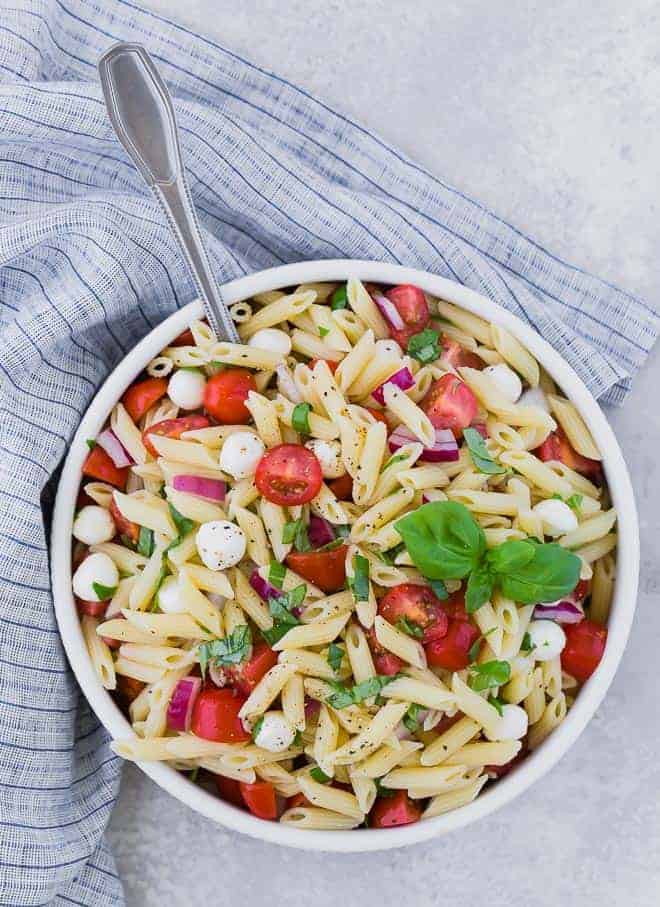 Storage Tips
Pasta salads are a great make ahead salad. Anticipating company? Make the salad on the day before, and stir in additional dressing and basil right before serving. So easy!
Store leftover pasta salad in the fridge for 3-5 days, in an airtight container.
For a perfect grab and go lunch, portion the salad into individual serving size containers. 
More pasta salads:

If you love pasta salads, here's a few more recipes that I'm sure you'll want to try, too.

 
Ingredients
16 oz. box dry pasta (mini penne)
8 oz. container fresh mozzarella pearls, drained and patted dry
2 pints grape tomatoes, halved or quartered
1 cup thinly sliced red onions (see note)
1/2 cup white balsamic vinegar (see note)
1/2 cup olive oil
1 teaspoon kosher salt, or more to taste
1/2 teaspoon coarse ground black pepper
½ teaspoon garlic powder
1 cup minced fresh basil
Balsamic glaze, optional
Instructions
Bring pot of salted water to boil. Cook pasta to al dente as directed on package directions. In colander set in sink, drain, rinse with cold water, drain well. 
Meanwhile make the dressing. In a small bowl or measuring cup, whisk together vinegar, olive oil, salt, pepper, and garlic powder. 
In large bowl, combine pasta, mozzarella, tomatoes, and drained onions. Add one half of the dressing; stir well. Refrigerate until ready to serve.
Right before serving, add the remaining dressing and the fresh basil; stir well. Add more salt and pepper if needed.
If desired, garnish with a drizzle of balsamic glaze and basil leaves.
Notes
Try a different variety of tomato. Diced whole tomatoes are good, too.
Choose your favorite pasta. Any bite-size pasta will be fine. Use whole wheat or gluten-free pasta or make it with tortellini.
Add grilled chicken, pepperoni, or diced ham.
Add diced red or green bell peppers, kalamata olives, finely diced zucchini or cucumber, spinach, or another veggie of your choice.
Substitute bottled dressing instead of making your own balsamic vinaigrette.
Nutrition Information:
Yield: 8 Serving Size: 1 of 8
Amount Per Serving: Calories: 446Total Fat: 20gSaturated Fat: 5gTrans Fat: 0gUnsaturated Fat: 14gCholesterol: 18mgSodium: 422mgCarbohydrates: 53gFiber: 3gSugar: 9gProtein: 14g
RachelCooks.com sometimes provides nutritional information, but these figures should be considered estimates, as they are not calculated by a registered dietitian. Please consult a medical professional for any specific nutrition, diet, or allergy advice.
Verdict: This has become my go-to pasta salad! I love it so much and it's always a crowd-pleaser.


Husband's take: Ben loves this too! No complaints!


Changes I would make: None are necessary, but I love adding grilled chicken, shrimp, or steak to make this a meal.


Difficulty: Easy!